Fire Damage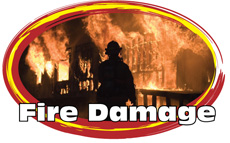 If you ever have the unfortunate experience of fire and smoke damage in the Metro Atlanta surrounding area, Flood-X is the name to call. Flood-X can provide full restoration services for fire and smoke damage. It is imperative to have trained technicians who know how to properly treat fire and smoke damage because of smokes distinctive properties.
A fire loss can be very complex, because of smoke's unique behavior. Smoke can easily flow through plumbing systems. Hot smoke moves to cooler areas and upper levels of structure. Smoke also comes in many different forms.
Flood-X can properly identify the different types of smoke, and therefore will provide the most effective method for fire and smoke restoration in the Metro Atlanta area. Your property will be restored to the best condition. Flood-X technicians have the knowledge, advanced products and equipment to effectively restore your property from Fire and Smoke Damage.
Flood-X's full service for Fire and Smoke Damage in the Metro Atlanta
Surrounding area provides the following services:
Content Cleaning
Controlled Demolition
Smoke and water decontamination
Cleaning and debris removal
Reconstruction
Sheet Rock Removal
Google+