For Indoor Air Quality Testing, Turn to the Experts at FloodX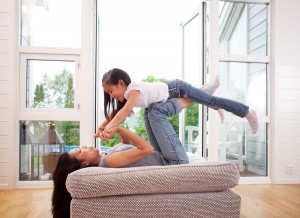 Indoor air quality testing can determine if you have a mold problem in your Atlanta, GA, home, but do you know when to call an expert to conduct such a test? If you smell a musty odor or are experiencing worse-than-normal allergic symptoms, but cannot see any visible signs of mold in your home, you should call FloodX. For a small $75 dollar fee we will send an experienced, certified professional to your home to look for mold. If there is no visible sign, but our professional thinks it's likely that you have a problem, you will have the option of ordering an air sample.
Air sampling tests the amount of mold spores in the air in your home, and here is what you can expect after you have ordered the test:
FloodX professionals will gather air samples and send them to a third-party lab in order to have them analyzed under a microscope.
If the lab confirms that there is mold, and if you choose FloodX to carry out your mold remediation project, we will apply that $75 dollar fee towards the mold removal process and begin the task of making your home healthy again.
Our highly trained experts will use advanced equipment and techniques, such as soda blasting or dry ice blasting, to rid your home of mold.
Once we have completed your mold remediation project we will have a third-party company conduct an inspection to ensure that all mold has been removed.
FloodX is dedicated to providing outstanding service to all of our customers, ensuring that you can trust us to be the most qualified company to restore your home to ideal health. We are fully certified as a mold inspector and remediation contractor by the Mold Inspection Consulting and Remediation Organization. We have also earned the "The Clean Trust" certificate from the Institute of Inspection Cleaning and Restoration organization.
For more information about when to call FloodX for indoor air quality testing for your home in Atlanta and surrounding communities in Georgia, contact us today.
Google+