Mold Removal Services in Buckhead, GA, from FloodX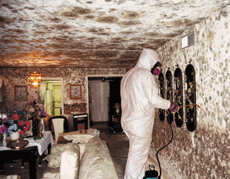 FloodX offers superior mold removal and remediation services to residents in Buckhead, Georgia, and surrounding areas. Since 1996, we've provided our customers with exceptional service, ensuring that not only are their homes free and clear of mold, but the underlying conditions that allowed the current mold infestation to occur have been taken care of as well. That's because we understand that it's not enough to simply remove mold. It's necessary to completely dry out the area and eliminate the source of moisture to prevent mold from returning.
When FloodX professionals come to your Buckhead home, you can expect that we will:
Conduct a visual inspection (for a $75 fee that will be applied to your mold remediation project), with the option of ordering additional air quality sample testing
Remove water and dry the structure of your home using vacuums, dehumidifiers, and strategically placed fans, followed by an inspection using infrared cameras to ensure the moisture is gone
Remove all mold using state-of-the-art equipment and proven methods such as dry ice cleaning or soda-blasting
Use HEPA vacuuming and air scrubbing under negative pressure to seal the affected area and prevent airborne mold spores from infecting other areas of your home
Additionally, you can rest assured that you will receive nothing but the finest service, carried out by professionals who understand the importance of the job at hand. FloodX is fully certified by the Mold Inspection Consulting and Remediation Organization – a nationally recognized trainer of mold inspection and remediation professionals. We have even earned their "The Clean Trust" certificate, which is added assurance that we maintain the highest standards in restoration service.
For more information about mold removal and remediation provided by FloodX, contact us today. We proudly serve residents in Buckhead, GA, and surrounding areas.
Google+