The Best Carpets to Install In Your Roswell GA Home
Roswell King, founder of Roswell manufacturing company in 1830s, stumbled upon the land that is now Roswell, Georgia and noticed the potential for plantations along with cotton production in the Roswell area. Cotton was used as carpeting in the United States before World War II; today it is primarily used in Belgium. When it is time to remove your carpet that has gone through the battles of water damage and choose a new carpet what thoughts should be going on in your mind?
Price, durability, padding, installation, and preservation.
Retain the thought that price of carpets are measured per square yards. There are many types of carpet such as Cut Pile, Saxony, Velvet/Plush, Cut and Loop Pile, Level Loop Pile, Berber, or Multi-level Loop Pile but when looking for the best carpets to install in your home you must bear in mind the types of fiber.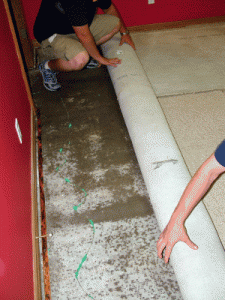 Nylon is the most popular carpet installed in homes and is in 90% of residential spaces. Nylons popularity is because of its resistance to moisture, static, mildew, fading, and staining. Nylon is best for family homes with younger children and continual accidents involving the staining of carpets. Nylon maintains color better than most fibers and is less likely to unravel due to the spun fibers (short lengths of fibers spun together).
o   Price: 25 to 50 dollars per square yard
o   Lifetime: 12 to 15 years
Olefin is the second best seller and is used as 80% of commercial carpets. Olefin fiber is colorfast (dyed in colors that aren't washed out easily) and this is handy when water damage occurs due to the water resistant fiber. Olefin is also moisture resistant, strong material, and can be easily cleaned with bleach in most situations. Olefin is best indoors or outdoors and is often used as sport turfs because of its durability and fortitude to outdoor conditions.
o   Price: 7.50 to 40 dollars per square yard
o   Lifetime: 5 or more years
Wool is the most costly carpet yet the most luxurious choice of carpet. Wool has a high upkeep but compensates with the soft touch, strong fibers, stain resistance, and ability to maintain fiber height throughout its time. Wool is the prime choice if cigarette burns or cigar burns are a problem along with any other flame issues because wool will not catch flame or melt as nylon does melt. The disadvantage to wool is that the fibers fade in sunlight and there is low resistance to chemicals which makes stain removal after water damage problematic. Wool is also a desirable home for moths, bees, and other bugs along with mildew.
o   Price: 18 to 81 dollars per square yard
o   Lifetime: 20 to 25 years
     

Polyester Recycled Carpet Fiber
Polyester recycled fiber offers mildew resistance, moisture resistance, and is the cheaper option between wool and nylon. Since polyester recycled fiber is made of recycled plastic such as plastic bottle caps, indoor air quality is improved and is environmentally friendly. Polyester recycled carpet is more stain resistant than nylon, but does not have the same great level of durability as nylon.
o   Price: 3 to 7 dollars per square foot
o   Lifetime: 10 to 30 years
Polyester doesn't hold as well as other fibers, but is easy to clean, water resistant, and the cheaper option compared to wool and nylon. Like wool, polyester fades with sunlight, which can be a problem in homes with numerous windows allowing ample sunlight.
o   Price: 7 to 25 dollars per square yard
o   Lifetime: 5 to 15 years
If wool is a fiber you're leaning toward yet the price has set you back, acrylic has the similar look and feel without the high price tag. Acrylic is one of the cheaper options with water resistance, moisture defiance, static resistance, mildew resistant, non-fading, and stain resistance. Although acrylic carpet fiber dissatisfies under abrasion compared to other carpets.
o   Price: $1.50 sq./ft. ($13 sq. yd.)
o   Lifetime: 10 years
Padding carpet cost around $0.30 to $0.60 sq/ft. and installation cost $0.50 sq/ft. this is important to keep in mind to assure you get the best deal when installing carpet in your home. These prices are not exact due to the varying cost depending on the seller and the lifetime expectancy is affec
Google+