Mold Remediation Services in Lawrenceville, GA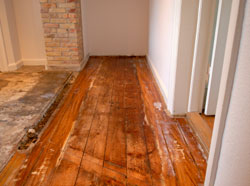 When you require mold removal and remediation services in your Lawrenceville, Georgia, home, turn to the experts at FloodX. Since 1996, we've helped homeowners by not only removing mold and mildew, but also by providing safe and effective mold remediation services to eliminate the possibility of new mold growth in the same area. Mold can be found in damp rooms in your home, such as basements, bathrooms, and kitchens, and can also grow in other areas if your home has been subject to water damage due to flooding from storms or burst pipes. The professionals at FloodX can help spot the problems, remove the mold, dry out the affected area, and advise you on how to prevent the problem from happening again.
When you turn to FloodX for your mold remediation project in Lawrenceville, you can expect that:
We will explain to you the extent of the mold infiltration and lay out your options for remediation and removal.
We will use truck-mounted vacuums, dehumidifiers, and fans to eliminate all standing water and any additional moisture that is promoting the growth of mold and make recommendations for changes you may need to implement in your home to prevent a recurrence.
We will take safety precautions to ensure that airborne mold spores are filtered harmlessly outdoors and do not have a chance to take root in other areas of your house.
Plus, when FloodX carries out your mold remediation project, you can rest assured that we won't enter your home with plans to simply demolish everything that has been affected by mold. We work tirelessly to save as much as possible, especially costly items such as hardwood floors and cabinets.
For more information about the outstanding mold remediation and removal services you can expect from the licensed and certified experts at FloodX, contact us today. We proudly serve residents in Lawrenceville, GA, and surrounding areas.
Google+