For Expert Water Damage Restoration Services in Atlanta, GA, or Nearby Areas, Call FloodX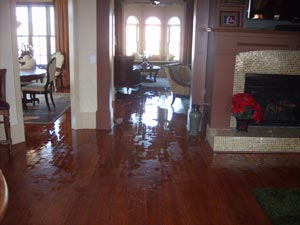 When you need water damage restoration services in the Greater Atlanta, GA, area, you want a company that delivers fast service, is available 24/7, has highly trained and certified technicians, and is dedicated to ensuring your complete satisfaction. For residents and businesses in the Atlanta area, that company is FloodX. We are a full-service water damage restoration and mold remediation company, and we've been dedicated to providing exceptional customer service since 1996. Our technicians are certified by the Institute of Inspection Cleaning and Restoration Certification, which sets the standards of excellence in the disaster restoration services industry, so you can be confident that they'll come to your home armed with the expertise needed to quickly assess your situation and devise a plan of action that will leave you with a clean and dry home.
FloodX can handle all of your water damage restoration needs in your Atlanta, GA, home and remove moisture resulting from:
Heavy rain, storms, or other weather-related causes
Leaking or broken pipes
Water buildup in areas like crawl spaces
Broken sewer lines
Washing machine or dishwasher overflow
Roof leaks
And more
When you call FloodX for your water damage restoration needs, we'll arrive at your home in less than 60 minutes. Our technicians will use infrared cameras to analyze the affected area, determining the extent of the damage and what will be needed to remove all excess moisture as quickly as possible. We'll use a truck-mounted, high-power vacuum to extract all standing water and use dehumidifiers, fans, and heating or cooling equipment to dry the affected area and the contents inside. We can even remove badly water-logged items and dry them at our facility, as necessary.
Unlike other companies, which may just gut your water damaged home and force you to spend large sums of money in replacement costs, we do everything in our power to minimize structural damage and restoration fees. In fact, we specialize in drying hardwood flooring, cabinets, and doors, which most companies would simply replace. If, however, the damage is too great and demolition is absolutely necessary, we'll repair and replace everything that is needed to restore your home back to its previous condition. Once your home is dry, FloodX technicians will pick up the drying equipment and use meter testing to confirm that there is no remaining moisture.
For more information about the superior work and extraordinary customer service you can expect when you choose FloodX to handle your water damage restoration project, contact us today. We proudly serve residents in the Greater Atlanta, Georgia, area.
Google+