For Water Damage Repair and Restoration Services in Atlanta, GA, or Any Surrounding Community, Call the Experts at FloodX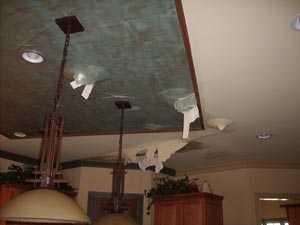 When water causes damage to your home, you need to take immediate action to prevent both structural deterioration and the formation of dangerous mold and mildew. As soon as you discover unexpected moisture or water in your home, contact the experts at FloodX. Since 1996, we have been the go-to water removal specialists in the Metro Atlanta, GA, area, giving homeowners the quick answers and taking the prompt action required to solve water damage issues in their homes and return their lives to normal.
Water damage in your home can be the result of a number of unfortunate events, including severe storms, broken pipes, sewer backups, or a leaking roof, to name just a few sources. Whether your water damage problem is caused by a flooded basement or excessive moisture in the bathroom, we know that the issue needs prompt attention in order to prevent secondary damages like the growth of mold. This is why we are available 24 hours a day, seven days a week. When you call us, we will immediately dispatch our certified technicians to your home and begin the process of removing all standing water and drying any residual moisture.
When you contact FloodX to tackle water damage in your Atlanta, GA, home, you can expect that our trained technicians will:
Be onsite in less than an hour
Use a truck-mounted, high-power vacuum to extract as much standing water out of your structure as possible, if any remains
Conduct a moisture mapping inspection, using infrared cameras and meters to determine the extent of the water damage to your home and belongings
Use special drying equipment such as dehumidifiers, fans, and heaters or coolers to dry your home and its contents, including sofas, rugs, clothing, draperies, and chairs, as fast as possible
Monitor the drying process on a daily basis to ensure all items are properly dried out, and to identify any items that need to be removed for drying in our off-site facility
Perform cleaning and disinfection services as necessary
Conduct a visual inspection of the damaged areas after drying, along with meter testing to confirm that all moisture has been removed
Regardless of the water removal and drying methods used, we won't consider your job completed until your structure and its contents are completely dry and you're satisfied with our work. Additionally, if components of your home, such as baseboards or moulding, need to be removed due to extensive water damage despite all of our efforts to salvage them, we offer repair and restoration services.
For more information about the outstanding service you can expect when you choose FloodX for water damage restoration and repair services, contact us today. We are also equipped to handle mold remediation projects for residents of Atlanta, Georgia, and surrounding communities.
Google+