Soda Blasting for Mold Removal in Atlanta, Georgia by FloodX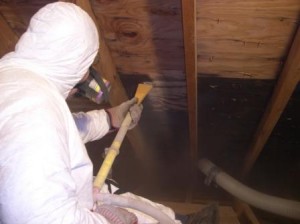 When soda blasting is required in order to remove mold from homes or businesses in Atlanta, GA, and surrounding areas, call the mold remediation professionals at FloodX. We are trained and certified experts with the experience to determine the extent of your mold situation, dry the area, remove the mold through the use of different techniques – including soda blasting – and help return life back to normal.
You may be wondering what exactly is soda blasting. It's an abrasive cleaning technique in which specially formulated sodium bicarbonate – baking soda – is applied onto a mold-covered surface at high pressure using compressed air. When you choose FloodX for your mold removal and remediation project, you can be sure that our professionals understand proper equipment setup and technique, using the perfect amount of baking soda needed to remove mold while minimizing damage to structures, keeping waste at a minimum, and reducing cleanup time.
Soda blasting to remove mold in your Atlanta home or business is ideal because:
Soda blasting deodorizes as it cleans, which removes unpleasant odors, making it a popular option for fire damage and smoke damage cleanup.
Baking soda crystals used in the blasting process are specially formulated to ensure that they are the right size and shape to remove mold quickly without damaging surfaces.
It is environmentally friendly, water soluble with a pH near neutral.
And more
However, just removing mold spores doesn't mean the mold remediation project in your home is complete. That's because soda blasting mold makes the spores airborne again, which means that they could potentially start growing on already cleaned surfaces. So, after FloodX professionals have finished blasting off the mold, they will follow up with HEPA filter vacuuming (a vacuum with a high-energy particulate air filter) and damp wiping until the surface is completely mold free, cleaned, and ready for a third-party inspection.
To learn more about how FloodX is committed to making homes in Atlanta, Georgia, and surrounding areas completely clean and healthy by using highly efficient techniques such as soda blasting, contact us today. We will be happy to tell you about the exceptional mold removal and remediation services that we have offered residents since 1996.
Google+