Sewage Damage
When unsanitary sewage spills occur, finding help to get the job done as soon as possible can be difficult. Flood-X provides professional sewage clean up services in the Metro Atlanta surrounding area. It is important to handle these spills with the appropriate methods and equipment because sewage spills are biohazards. Harmful biological agents such as bacteria, viruses, fungi and parasites are often times found in raw sewage.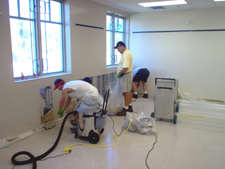 In addition, there are risks from contamination with unknown chemicals (such as solvents, carcinogens, pesticides) and from toxic, irritant, asphyxiating or flammable gases in confined spaces.
The longer the contamination continues to persist, the greater the potential for microbial development. Flood-X technicians are trained and equipped to remove the sewage, contaminants, and moisture, and help ensure the structure is properly cleaned, disinfected, and deodorized.
The following are important reminders and tips for treating sewage spills at home:
Remove all furniture, loose rugs, and any other items in the area.
A majority of the time, a saturated wall-to-wall carpet (in addition to the pad) cannot be properly cleaned. It is highly recommended that they be removed, wrapped in plastic, and taken to a transfer station or sanitary landfill. If some items/carpet is not damaged, you should hire a licensed carpet cleaning company to steam clean in order to properly ensure the carpet has been disinfected.
All hard surfaces, such as linoleum, hardwood floors, concrete, wood moldings, wood, and metal furniture, etc. should be thoroughly cleaned with hot water and an antimicrobial disinfectant, and then rinsed with a bleach/ water mix. Let the surface air dry.
Upholstered furniture, loose rugs, drapery etc. should be professionally cleaned.
Plasterboard, plaster and lath that have been saturated and feel soft should be removed and replaced. If the surface has been affected with water, clean as you would a hard surface, but be sure not to saturate the plaster.
Clean sinks, dishwashers, and other plumbing fixtures that have had sewage back-up with detergent, and then rinse with the bleach solution.
Disinfect clean-up mops, brooms, and brushes with antimicrobial disinfectant.
Increase air circulation to reduce odor and mold growth's-open all windows and doors. Professional drying equipment such as dehumidifiers, air movers, and other drying units are essential in order to effectively dry the area and prevent further damage such as mold growth.
Google+