For Mold Remediation Services in Atlanta, GA, and Surrounding Areas, Choose FloodX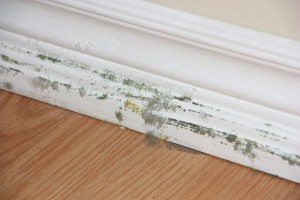 Mold remediation includes not only the removal of mold in a residential or commercial property, but also the removal of the water or moisture that allowed the mold to grow in the first place. At FloodX, a full-service water damage and mold remediation company, we know that it is not enough to simply kill mold on surfaces, because if the moisture problem is not addressed, the mold will grow back. When your home or business in Atlanta, GA, or any surrounding area has a moisture or mold problem, you can trust our experts to safely and efficiently dry the affected structure and thoroughly treat any mold infestations, resulting in a healthy environment for your family or staff.
The mold remediation process begins with a visual inspection (for a $75 fee) and, if necessary, air quality testing, to confirm the amount and type of mold present. We'll provide you with a written estimate for mold removal, and will apply the inspection fee toward the cost of your mold remediation project if you choose to use our services.
Depending on the type and extent of the water damage and mold infestation that FloodX inspectors discover, we'll employ one or more of the following mold remediation methods to remove the moisture and mold from all affected surfaces:
Water removal and structural drying using truck-mounted vacuums, dehumidifiers, and fans, followed by  moisture inspection with infrared cameras
Dry ice cleaning, which uses frozen carbon dioxide to remove mold without harmful chemicals
Soda blasting, which removes mold by blasting sodium bicarbonate under high pressure on the affected surfaces
HEPA vacuuming and air scrubbing, which is performed under negative air pressure by sealing off the affected area from the rest of the structure and pumping the enclosed air outside
Additionally, we specialize in drying cabinets, delicate hardwood flooring, and other household items, and will do everything in our power to save you the expense of having to replace them. However, if too much damage has occurred and the mold infestation is too great, we can perform demolition as a last-resort mold remediation method, removing any affected interior structures, such as cabinets, drywall, and baseboards. We can also repair and restore your home following demolition, so you won't have to worry about finding another contractor to do the work.
FloodX is committed to providing exceptional customer service, and you can be sure that we have the experience and expertise needed to solve your water damage and mold problems. We are certified by the Institute of Inspection Cleaning and Restoration Certification organization, and have earned their "The Clean Trust" certificate, which means we hold the highest standards in disaster restoration service. We are also fully certified as a mold inspector and remediation contractor by the Mold Inspection Consulting and Remediation Organization.
If you need our mold remediation services, contact us today. Since 1996, FloodX has proudly helped residents and businesses in Atlanta, Georgia, and surrounding areas with all of their water damage and mold remediation projects.
Google+