Do You Have Mold in Your House in Atlanta, GA? Call FloodX Today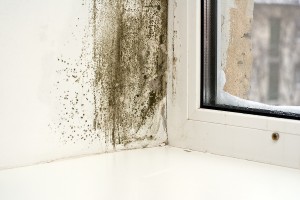 If you think you have mold in your house, you may need the services of FloodX, a certified mold remediation company serving Atlanta, GA, and surrounding areas. Mold is a natural part of our outside environment, but when mold spores enter your home and are exposed to moisture or humidity, the resulting mold growth may pose a potential health hazard to you and your family. In the right conditions, mold in your house can begin multiplying within 24 to 48 hours, and it can spread at rapid-fire pace depending on the temperature and moisture level.
It's important to know that when mold is contained in a small area (typically less than 10 square feet), you can remedy the problem on your own using simple household cleaners. But, if you've noticed mold in your basement, mold on your clothes or carpet, or even just a moldy, musty smell in your house, you may have a more serious problem that requires professional assistance from the experts at FloodX. Even if you are an avid do-it-yourself expert, it is never recommended that you attempt an extensive mold remediation project by yourself. It takes special equipment to ensure complete mold removal while protecting your property and health, and FloodX has the tools and the experience to do just that.
Here's how the professionals at FloodX will remove mold in your Atlanta house:
First, a qualified FloodX technician will come to your home, conduct a visual inspection (for a $75 fee), and tell you where there's mold as well as how much mold you have in your house.
We will provide you with a written estimate on how much it will cost to remove the mold. If you choose to use our services, we'll apply the inspection fee to the total cost of your mold removal project.
If necessary, FloodX will collect air samples, so a certified, third-party lab can perform air quality testing to determine how many mold spores are present in your home's air.
Depending on the degree of mold infestation in your house, FloodX technicians will treat the infested areas according to industry standard practices, employing soda blasting, dry ice cleaning, HEPA vacuuming, detailed hand cleaning, and/or other proven methods to effectively rid your home of mold. Additionally, we'll use containment methods to quarantine the infested areas and ensure that the mold does not spread to other parts of your residence during the remediation process.
Unlike mold remediation companies that perform their own final inspection, we use a third-party industrial hygienist to inspect our work and give your home a clean bill of health.
FloodX not only offers mold testing, abatement, and clean up services, but also performs demolition, repair, and reconstruction services, in the rare event that a mold removal project in your house demands more drastic measures. Regardless of the level of mold remediation your home requires, you can trust that FloodX will return your home to a healthy environment for you and your family once again.
Contact FloodX today if you suspect that you have mold in your house in Atlanta, Georgia, or in any of the surrounding areas.
Google+