How Professional Mold Removal Services Can Save You Time and Money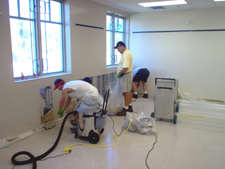 Choosing to have a professional perform mold removal services in your Atlanta, Georgia, home is a decision that can save you enormous amounts of time and energy, as well as provide you the assurance you need to know that your home is healthy and free of mold. That's because you will enjoy a welcome peace of mind when you choose a licensed and certified company to remove mold in your home and to provide appropriate remediation services to prevent mold from returning.
When you choose certified professionals to carry out mold removal services in your Atlanta home, you want to look for a licensed and certified company that can:
Kill not only the mold you can see on the surface areas of your home, but will also take care of unseen mold that may be thriving between the walls, under the floorboards, or in other unseen areas of your home
Remove mold in your home using state-of-the-art techniques that will not only effectively clean the mold-infested areas, but will also prevent airborne mold spores from relocating and infecting other areas of your home
Guarantee results and use a third-party laboratory to verify that the affected areas are now safe and mold free
If you are facing a mold problem and need the services of a licensed, certified, and highly experienced mold removal and remediation company, contact FloodX today. Our technicians are expertly trained and we will do everything in our power to make your home healthy and safe again as quickly as possible. We are certified by the Mold Inspection Consulting and Remediation Organization and have earned an A+ rating from the Better Business Bureau.
Contact FloodX today for mold removal services in Atlanta, GA, and all surrounding communities.
Google+